Welcome to LSP Scotland.
Listening . . . Sensing . . . Pausing
This website will remain in a state of re-construction to help keep it alive. Images will lead you further in. Clicking on the wave below acts a bit like a book.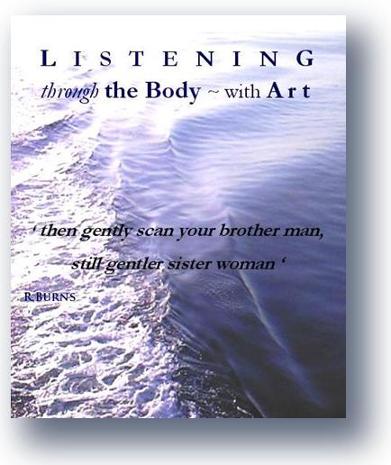 I offer tuition in . . . Listening through the Body ~ with A r t.
A Listening Skills Practice, central to the creative process and a blend of all the good stuff from the common ground between: Mindfulness, Experiential Listening & Focusing, Emotional Freedom Technique and Feldenkrais Method.
The central attitude of sincere playfulness helps us notice whatever we notice in ourselves, interact imaginatively with our experience and move forward, as a whole.
Including therapeutic Art Making into our Listening process adds an extra dimension of play, in tune with the principles of Neuro Plasticity underpinning both Feldenkrais and EFT where the emphasis is on resting just as much as ' doing '.
If you have a life situation or creative project that you want to move forward, beyond stuckness ~ I offer 1-to-1 tuition and small group workshops in this gentle way of Listening and being with ourselves and each other.