There are obv
ious parallels between David Bohm's work on 'The Implicate Order' and Eugene Gendlin's 'Philosphy of the Implicit'. Each spent their lifetimes building a body of work that supports my growing understanding of this field. I consider them both 'in conversation', alongside J.Krishnamurti and others, all contributing to any move towards wholeness: away from simply being a 'talking head', held in our own wee illusory 'reality' bubble, separated from 'the body' and distanced from whatever and wherever the 'actuality' of universal 'truth' may be.
Download a Pdf
of my introduction to 'Experiential Focusing & Listening' by clicking on the image beside this text..
There is plenty to keep you going !
Click on the image to the right to download a Pdf of extracts from the chapter: 'How Adults Focus' from '
Focusing with Children
'.
Click on the links below for PDF files to download and read through, as well as MP3 audio files to listen to and some transcripts of the recordings.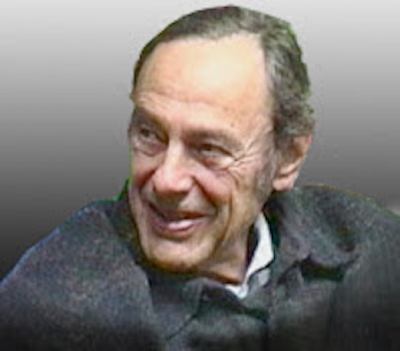 Eugene Gendlin, PhD ( 1926 ~ 2017 ) The Philosophy of the Implicit
" What is true is already so. Owning up to it doesn't make it worse. Not being open about it doesn't make it go away. And because it's true, it is what is there to be interacted with. Anything untrue isn't there to be lived. People can stand what is true, for they are already enduring it."
Eugene T. Gendlin received his Ph.D. in philosophy from the University of Chicago and taught there from 1964 to 1995. His philosophical work is concerned especially with the relationship between logic & experiential explication. The applications of this "Philosophy of the Implicit" have been important in many fields.
Click on Gene's image to read more on his work and click on the links below to listen to some audio files.
E. Gendlin
- "
The Body Speaks from the Inside
" (
MP3 Audio
)
E. Gendlin
- "
It's just a way
" (
MP3 Audio
)
David Bohm ( 1917 - 1992 )
The Implicate Order
"Enfoldment, unfoldment, and the implicate and the explicate". The theoretical physicist David Bohm is most known for his work in quantum physics but he also deeply explored the nature of thought & intelligence. These explorations lead Bohm to propose that thought is at the source of humanity's problems. Bohm called for sustained attention to the process of thought as the manner of addressing these problems at their source. "We could say practically all the problems of the human race are due to the fact that thought is not proprioceptive" Click on D. Bohm's image to read quotes on this subject & click on the links below to listen to audio files.
D. Bohm - " Parts of a Whole " ( MP3 Audio ) Bohm developed a theory of quantum physics addressing both matter and consciousness ~ as an unbroken whole. His concept of "implicate order" provides a basis to bridge science and the realm of spirit. For 2 decades, he explored this possibility with religious philosopher J. Krishnamurti
D. Bohm - " Science, Order and Creativity " ( MP3 Audio ) Bohm tells us why science has become specialized and fragmented at the cost of its soul, and describes his theory of "implicate order" and its implications for human consciousness. He observes that thought is based in memory but true creativity depends on getting beyond the thought process.
D. Bohm - " Towards Wholeness " ( MP3 Audio ) Bohm, describes scientific theory as the myth that drives our culture, and points out the fallacy of our belief system. He also presents his alternative for addressing the world's mega-problems by engaging in a new level of "dialogue" among small groups of people.
D. Bohm - " Essential Reality " ( MP3 Audio ) Bohm addresses the nature of thought, and how our conditioned minds become subordinate to the way we think. He says the thinking process "is a representation of what is, but is not what is," and goes on to challenge our perception of time and space as illusory. This conversation ranges from mindless thought to experiencing each moment as eternity.
J. Krishnamurti ( 1895 - 1986 ) The Awakening of Intelligence ( MP3 Audio )
" Yes.That is affection ~ that is love. When you talk to my waking consciousness, it is hard, clever, subtle, brittle. And you penetrate that, penetrate it with your look, with your affection, with all the feeling you have. That operates, not anything else."
Krishnamurti is regarded globally as one of the greatest thinkers and religious teachers of all time.
He did not expound any philosophy or religion, but rather talked of the things that concern all of us in everyday life, of the problems of living in modern society with its violence & corruption, of the individual's search for security and happiness, and the need for mankind to free itself from inner burdens of fear, anger, hurt and sorrow. He explained with great precision the subtle workings of the human mind, and pointed to the need for bringing to our daily life a deeply meditative and spiritual quality.
J. Krishnamurti & D. Bohm
- "
The Ending of Time "
Bohm tells us why science has become specialized and fragmented at the cost of its soul, and describes his theory of
"implicate order"
and its implications for human consciousness. He observes that thought is based in memory but true creativity depends on getting beyond the thought process